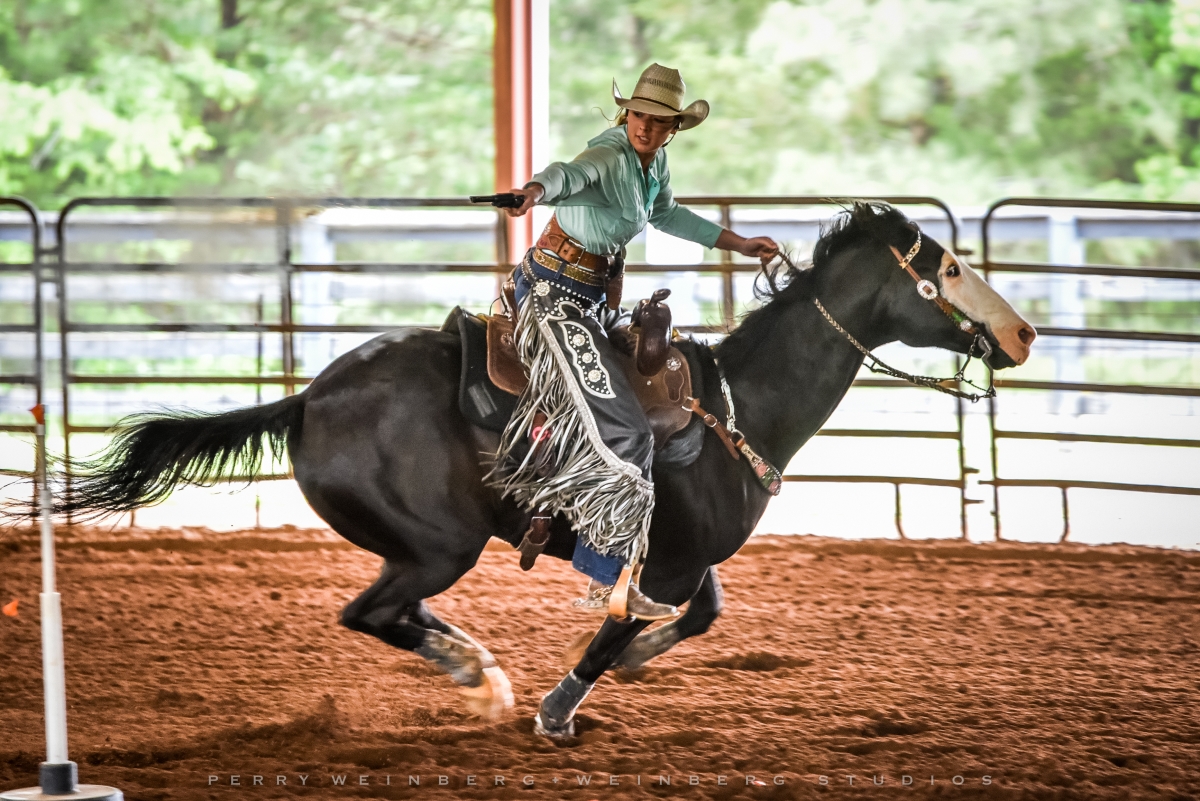 Cowboy Mounted Shooting
My name is Jessica Amos most people call me "Jessi", I'm 20 years old and from the beautiful mountains of Southern Virginia. We have a small farm where we raise a few performance horses and I get the opportunity to ride and be part of developing these horses. I love seeing these horses go on to do great things and become a special part of someone's life. Of course, I try to keep them all. I'm attending school to become a Licensed Massage Therapist and pursuing a degree in business. In addition to school I work full time as a Teacher Assistant and work with young kids teaching them the basics of caring for horses along with riding lessons.
Mounted Shooting is my love, and I'm a Level 6 Competitor in the Cowboy Mounted Shooting Association. I have been competing for the last 9 years and started out as a Wrangler the first year. Funny story is that at my very first competition I was so scared that my Dad had to lead me through the pattern. I guess that's where my logo came from "Faith & Courage". Have Faith in God, yourself and your horse and the Courage to go for what you love. It hasn't always been easy but the love and support that this sport brings is very uplifting. I've had the opportunity to travel all over the US and meet and train with some of the greatest horse people in the world. Along with that I have made some lifelong friendships with some amazing people. My partner in crime is my APHA horse Flash Me A Wild Card "Joker", he is currently 22 years young and he is a legend. Together we have made some great accomplishments over the last couple years. Some of those accomplishments include 2022 Jeffers's National Championship All Around Cowgirl and Overall Shotgun Winner, 2021 Top Ten Ladies Overall High Point, 2021 Ladies Reserve World Champion, 2021 Eastern US Champion Ladies Overall and Reserve Overall, 2021 Ladies 6 Eastern US Champion, 2021 Ladies 5 Jeffers National Champion, and 2020 Ladies 4 Winters National Champion.
Overall, I'm an outdoor girl! Along with my first love of horses and mounted shooting, I enjoy shooting clays, hunting, fishing, and riding out on the trail on my ATV. Basically, anything that involves the outdoors I'm all about. You can follow me and my adventures on Facebook or Instagram. Reach out with any questions, Facebook: @Jessi.Amos.9 and Instagram: @_jessica_leigh.
2022 Jeffers's National Championship All Around Cowgirl and Overall Shotgun Winner
2021 Top Ten Ladies Overall High Point
2021 Ladies Reserve World Champion
2021 Eastern US Champion Ladies Overall and Reserve Overall
2021 Ladies 6 Eastern US Champion
2021 Ladies 5 Jeffers National Champion
2020 Ladies 4 Winters National Champion